How to Help a BBW to Build Body Positive Image
There's nothing a sad as a chubby girl looking lonely and unwanted…because those feelings are lies! They are toxic thoughts and nothing close to the truth. The truth is that BBWs are beautiful and now more than ever men want them. Men are attracted to them. And all they really need is some confidence!
If you are single and a curvy or big beautiful woman you may feel self-conscious about your weight. This is completely normal, of course. The problem is that these self-loathing feelings can carry on through into the relationship and cause a host of bigger problems. Women with low self-esteem can develop a personality disorder and this can lead to sexual incompatibility.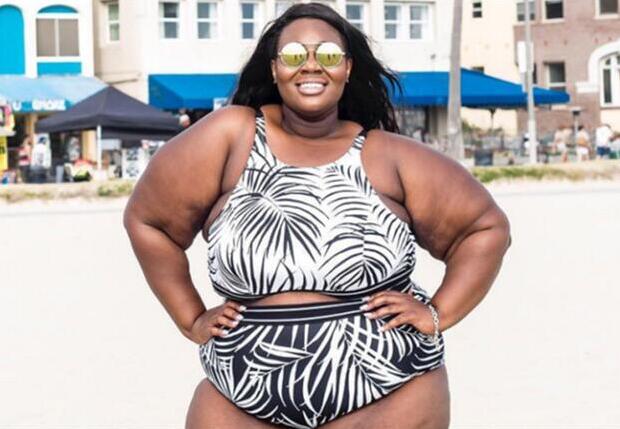 Why Self-Confidence is Important
For example, she might not be able to orgasm because of her shyness—because she thinks her boyfriend is repulsed by her body. It's not true…but in her mind, she can't get past this feeling. This problem might even lead to low libido, which could frustrate the husband or even lead to fighting or infidelity. It's best then to get help building this woman's self-esteem so that she can feel good about her body. Helping her change the way she feels will improve a couple's love life and rekindle the flames of romance.
While you might think that simply requires the man to douse her with praise and encouragement—which it does—there is more than that required. The issue is that even if a partner does encourage a big girl to be sexual and not worry, she may still feel self-conscious. She might ask if she looks fat. What is the guy supposed to say?
Additional Ways a Partner Can Help
Reassurance might be the first answer. Maybe you're thinking of saying, "Of course you don't look fat, honey!" But that's not necessarily what she wants to hear.
Some psychologists say that answering a "loaded question" like that with another question may be the best response. It challenges her to think and challenges these self-loathing thoughts that the woman has. It might also be a good idea to guide conversations so that the guy can focus on her strengths and avoid drawing attention parts she feels self-conscious about. There is also a special need to watch the words a partner uses which may involve "fat-shaming words" or even sentences that may imply that the partner is uncomfortable with her body.
It's not always easy but a mature and patient man can help a Big Beautiful Woman to love her body and develop more self confidence. It's not about working with her according to her time frame and comfort. A woman who feels sexy and appreciate will always show her man how much she likes him!
Another idea that can help with self-confidence is dating ONLY among BBW admirers and weeding out those guys who judge you based on body type. This allows for more streamlined dating that yields better results.
Why wait? Try looking for a local match now or refine your search to get that "dream date" going!
Read Related Articles:
The Difference Between BBWs and Curvy Women
Pros and Cons of Dating of BBWs
How to be Sexy at BBW Dating
How to Meet and Date BBW in the US
How Should BBW Take a Selfie
Sex and BBW Dating-What the Science Shows
Top 10 Places to meet BBW - Big Beautiful Women
Men Explain Why They Like BBW Dating
The Benefit to Date BBW/BHM?
Back To Curvy Dating Blog & Tips