The Top 5 BBW Dating Sites
Online dating has become a success story far beyond the dreams of the first innovative builders of social media dating sites. It hasn't changed conventional dating, but it has redefined it. We are no longer limited to our immediate environment and the who knows who among family and friends. We can openly state our preferences; at least within the confidentiality of our online presence. Instead of impersonalizing the dating scene, it has become more vibrant than ever as we look frankly at our options and realize we aren't nearly as alone in our thoughts as we once thought we were.
The Inclusive Climate
The general attitude about dating desirability began changing even before the advent of social networking. People had begun waiting until an older age to settle down and marry, sometimes choosing not to marry at all. Prejudices toward mixed race and cross-cultural dating were lessening, although in some areas it was still difficult to find a mixed race or cross-cultural partner. Online dating has created a more blended, integrated society that is relaxed in its regard to age, race or culture. It's a society engineered by personal choice and the outstanding choice has been diversity.
The online world has also changed the way the public views beauty. Typically, beautiful women are portrayed as medium height and slender, with long arms and legs. Beginning with plus size models and their millions of fans, a slow realization dawned on the media that the public like their men and women in all their sizes, and big, beautiful men and women are very popular.
How the Top Five BBW Dating Sites Measure Up
NO.1 Large Friends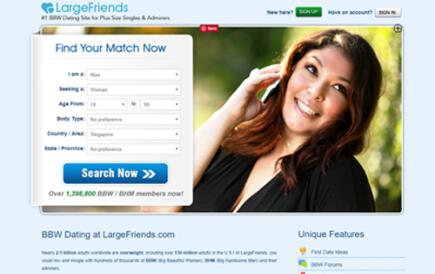 If you like text-driven websites, your immediate preference will be for Large Friends. With an open forum and blog roll that allows you to view what the members are talking about, and a fill-in page that allows you to state your initial preferences before pushing "continue", you feel zero sales pressure in making a commitment. You can look around and get a feel for the type of people who use the site before taking the big plunge.
The formatting for Large Friends is very basic but appealing for those who don't find gift wraps necessary. Members discover each other through online chats about their favorite pastimes, hobbies or interests and even build fan bases through their blogs. Your success at the site is highly determined by your online presence. Basic membership is free, with premium memberships available for a service fee.
NO.2 BBW Cupid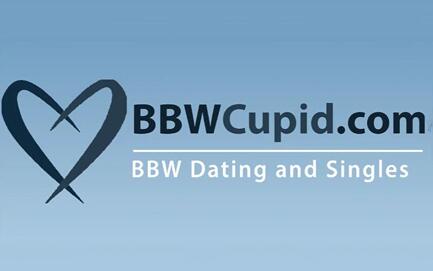 Professionalism and experience is your first impression when visiting the BBW Cupid dating site, which isn't surprising considering it is just one of twenty-nine sub-categories that include international, Christian, gay, interracial and military dating sites. The site includes the ability to join directly or sign up with Facebook. Members can immediately create a profile, browse photos and begin communicating.
The site contains success stories and blogs but does not contain direct access to any member forums without signing up for services. You must take their word that members are satisfied or find out for yourself by signing up. Since the initial services are free, you don't have anything to lose.
NO.3 One BBW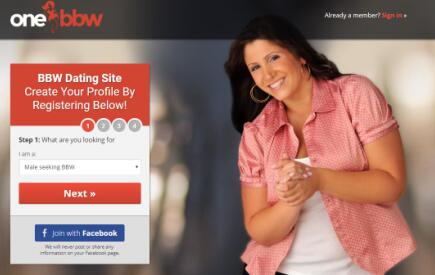 The One BBW site feels wholesome. It effectively delivers the message that love and big and beautiful go together, while cautioning that this is not a casual dating site and will not tolerate any vulgar or disrespectful behavior from either men or women.
You are able to view a limited number of member photos and their profiles without signing up, which helps in deciding whether or not you're in your comfort zone. Once you have signed up, you are able to create your own profile, upload images, search and browse other members and send flirt messages. If you meet interesting people you would like to know better, you must then sign up for premium services, which will be offered upon completion of your profile. If you are unsatisfied with your premium, you can request a refund, but this must be done within sixty days of service. After that, all sales are final.
NO.4 BB People Meet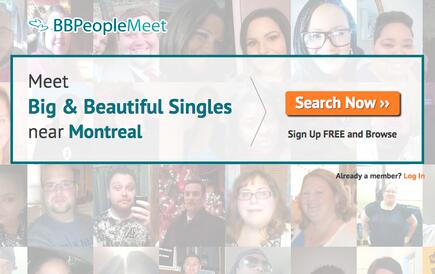 It almost feels intrusive; almost as though the site was crouching and waiting for you to come to it; announcing immediately that there are singles living within your area and giving your location. The uncomfortable part is, you don't know anything at all about the type of users without signing up.
The good news is, BB People Meet is a highly secure website, affiliated with some longstanding and trusted dating sites, such as Match.com and Single Parents Meet. Once you have created a free profile, you will be able to browse through thousands of personalsand narrow your search through location and shared interests. The user-friendly dating site will even help you in narrowing your search by suggesting compatible matches.
NO.5 BBW Lover.com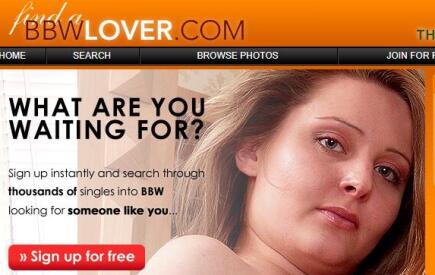 Not everybody finds conservative dating sites appealing. Some want a site that pops with sex appeal. BBW Lover.com has an upfront, sexy format with some very frank profiles of what the lady wants and expects from her lover. Even the categories are sizzling, with BBW sluts, BBW ho's, swingers, trannies, etc. You can register for free and create a profile, after which you will receive flirts, messages, account updates and special offers via e-mail. You also have the choice of blocking members from your searches.
Conclusion
Each of the top five websites for big, beautiful women has something different to offer in terms of appeal. Large Friends has a format that allows you to build blogs and join forums at a leisurely pace, creating the environment you like best for develop internet relationships.
BBW Cupid's professional touch is reassuring, especially to new members unsure of how to navigate through the online dating scene. One BBW is engineered toward people looking for serious relationships based on mutual respect and common interests. People Meet has a large search engine, with rapid results, plus a high-security privacy system. BBW Lover doesn't mince around. If an immediate relationship is what you want, that is the place to look.
Both BBW Cupid and One BBW have the option of joining through Facebook, as well as an available app for mobile phones. As people link their social networking sites close together and access the Internet more through mobile phones than any other device, this type of practical design will be the must-have built-in feature of all trending dating sites. Both sites create a professional tone that is reassuring to the public who just want to meet big beautiful women and men because they are looking for a meaningful relationship with the type of body build that attracts them.