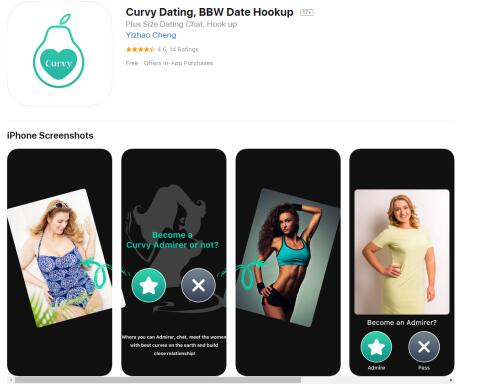 Given the various dating sites around the internet, one might be at a loss as to which is the best one for ones taste and suitability. Undoubtedly, there are dating sites for people of all shapes and sizes, including bigger women and men. How then does a site stand out in such a crowded market?
The answer is simple; by offering potential users something just a little bit different. BBWornot.com does this by offering users a familiar social media style interface that most of us have grown used to these days. And it also has a Tinder dating app called Curvy.
The site is developed with a very user friendly and easy to use features and navigations. This site's splash page has a very familiar feel for facebook user and as such, accessing the site landing page for the first time, you might think you are visiting your facebook page. Additionally, one can also sign up using your facebook account if you want.
Perhaps, one of the most amazing features of this platform is the fact that it offers free services without need for any premium account whatsoever. Using BBWornot is completely free! The site is designed to be a forum for people to meet.
It doesn't only looks like a social media site but it also acts like a social media site. You can access all of its features without ever paying a single dime. There are no premium options, just the same level of access to everyone at no charge.
What makes it even better is that you don't have to put up with any advertisements. You would think with a free site they might have to use advertisements to pay for the site, but there are no ads at all.
It should however be noted that this seems to be a relatively new site so this may change with time, but for now it remains completely free.
The site also has a social media style interface is well designed and there are a lot of features on the site that most people will find familiar such as instant chat sessions and a newsfeed with a colour scheme and interface similar to that of Facebook.
Some other features on the site include:
Free instant chat sessions
You can create albums and upload an unlimited amount of photos for them
You can comment on any photo or profile without limits
Upload videos
Join groups
Free blog
Apart from the user friendly website, BBWornot also has a Tinder-like app called Curvy. The app also comes with loads of features which includes user's ability to contact curvy singles around them.
The app is available on both iOS and Android platforms. Unlike the free BBWornot website, the app comes with the In-App purchase feature indicating that the whole of the services on the Curvy app are not free.
BBWornot.com provides a platform that acts as an interesting and fun meeting and communication platform for big sized men and big beautiful women. Using the site and also the app, big sized singles can find each other and start new friendships and relationships.
If you're looking to get involved in a new and exciting BBW dating site as it grows into something larger this might just be the best site for you.