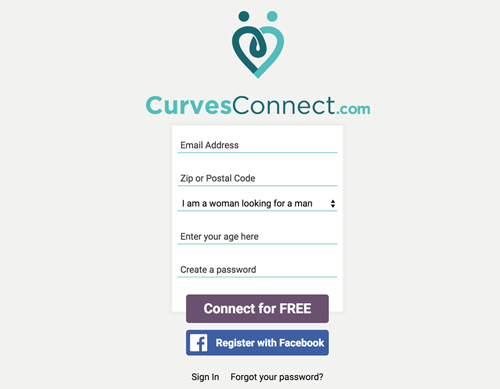 CurvesConnect.com is a new online dating site launched in 2015. Jerry Miller, founder of FarmersOnly.com (with now over 4 million members), has been studying online dating for over 10 years. Through countless conversations with people from all walks of life, Jerry observed that Hollywood has brainwashed people into what "being attractive" should look like. But why should so many people be overlooked just because they are a few pounds overweight?
We often hear not to judge a book by its cover, but 99% of online daters do just that. If you don't post a photo fit for a fashion magazine, you get overlooked. Yet most of us aren't fashion models or Hollywood stars. Most of us are real, down-to-earth people who have a few extra curves or pounds. That's why Curves Connect was started: so real people can be accepted just the way they are.
At CurvesConnect.com you'll find real photos of real people looking for real, meaningful relationships. Be who you are, not who others think you should be.
The site is inspired by the tens of millions of Americans who don't happen to look like Hollywood celebrities.
To start with you will have to register and by registering you will fill a form which will require you to input in your email, your zip code, your age then you will have to indicate your own gender and the gender you are interested in once your registration is successful you will have to edit your profile.
Take your profile as your first date let your profile explain you as much as possible. Uploading your pictures is a very important requirement for your curvesconnect.com account.
CurvesConnect.com runs a blog and series of social medal site such as Facebook, twitter, Instagram. In the blog there is section for testimony which people have being dropping very interesting testimony of how they were able to start their love life from curveconnect.com and were presently married as at the time of sharing the testimony. There is also a section for expert advice for people having challenges.
CurvyConnect offers two types of membership plans which are the Standard (free) and premium account.
As a standard member, you can create a profile, browse through our database of member profiles, use search options, send flirts to members, and receive flirt notifications from other members.
With premium membership, in addition to what you can do as a standard member, you can also send and receive unlimited personalized emails to and from other premium members, post unlimited photos, see the online status and last visit date of other members, know who visited your profile, block members from contacting you, and also exchange contact information.
To upgrade to the premium plan, just click on the "upgrade" option on your profile and you will be redirected to a page where you can see the pricing list for the premium plans available.
Curves Connect is for anyone who self-identifies as curvy, plus-size, or having a few extra pounds or curves, and people who don't judge a book by its cover. It promotes real people looking for meaningful relationships, thus, if you're interested in casual hook-ups, just look elsewhere.