The Benefit to Date BBW/BHM?
What are the benefits of dating a big beautiful woman OR a big handsome man? You may have wondered this recently and may have even been approached by a plus size person. Or maybe you're just feeling attracted to this person and can't even explain why. Is it going to be a problem dating a big person? Is there anything you should know?
Of course there's not a problem, unless of course you feel pressured to date when you really don't want to. If you're really attracted to them then by all means follow up on your instincts and make that date. You may find that there is a much stronger connection with a big girl or big guy.
You may even be a few extra pounds yourself and if that's the case you may find it more comfortable to date someone a little heavier, rather than face the prejudices and ill-feelings of a skinny person who doesn't feel that same attraction.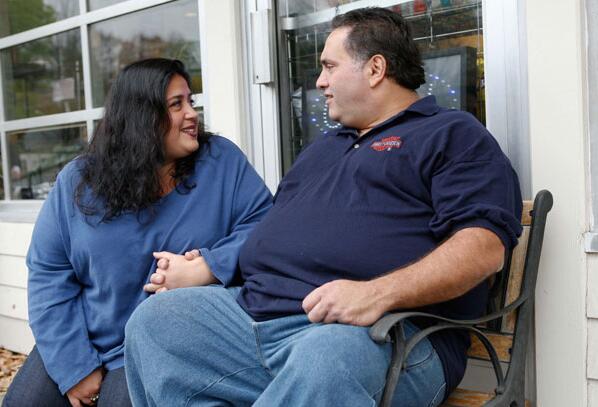 Plenty to Love and Plenty of Reasons!
What are some of the most obvious and less obvious advantages to dating bigger girls?
For one thing, bigger women tend to be kinder. They've experienced social pressure more so than skinny women and so this has taught them to be kind to others. Some men say that BBWs are humble and usually more generous than skinny girls.
More than a few men would agree, skinny girls may even have an "attitude" when it comes to dating. They want you to impress them. But big girls, on the other hand, seem more interested in finding an emotional connection.
There's also a stereotype about BBW having low self-confidence but it's usually NOT true! Many big girls are very comfortable in their skin. They know what they want and they feel sexy. Their confidence only makes a man feel better as well.
Some men claim that chubby girls are more down to earth and more fun on a date. They're up for anything, whether that's going camping, going hiking, going to a movie or even going to a fancy restaurant. They're more active in general than the typical skinny girl who is spoiled with daintier things. Many men also claim big girls are much easier to talk to than skinny girls, whether as a date or even as a friend. They don't have anything to prove, nor do they expect something from you. Just mutual fun!
How About Chubby Men?
Bigger guys or BHMs are also in-demand, even from BBWs AND skinny women. Big guys tend to be active, and friendlier than skinny supermodel bad boys. They also love to eat and chill out, not obsessively worrying about their health!
Big handsome men are also very masculine, even when compared to skinnier guys and this is why many girls, big and small, admire them. They are "teddy bear" like and very huggable and relaxing to be around.
Why not start looking for someone you know you're going to like—like a big guy or big girl—rather than testing your luck at the bar? Online dating for big beautiful people really works. This is more like a speed dating approach, except that it's more private, discreet and much more successful in the long-run!
Read Related Articles:
What Kind of Man Likes BBW Best?
Back To Curvy Dating Blog & Tips