How Should BBW Take a Selfie
Are you nervous about taking a selfie for your dating profile? Or perhaps you met a great friend online and now he wants a recent photo of you. Yes, this can be a nerve wracking experience for sure. And yes, frankly, if you just improvise and send any old photo you have saved on your cell phone it might backfire in a bad way.
It sucks sometimes, but yes, people do judge you based on appearances. If you take a bad photo and then send it to a potential date, you can't be too surprised if the guy takes a step back. He may know you're a BBW and be fine with it. But if he sees a bad photo he may wonder if there's really any physical attraction there.
Don't worry…you can still be BBW and take GREAT photos, the kind that attract all kinds of men. Here are a few tips on how your selfie SHOULD look.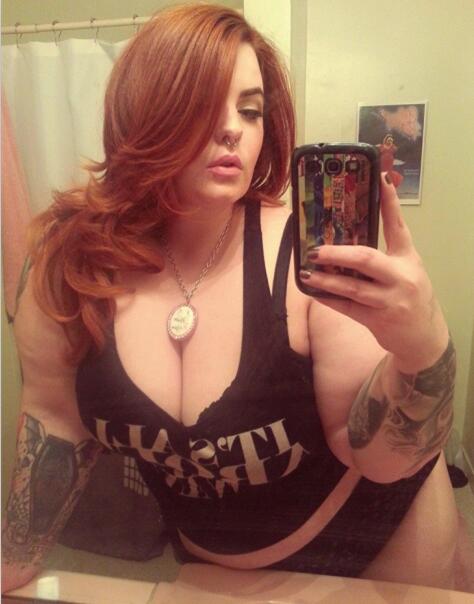 1.Always smile but keep it natural.
Smiling shows positive energy and a good disposition. Don't smile too hard or look fake. Keep it natural by thinking of something that really does make you smile, like a good memory or a person you really like.
2.Show cleavage.
You don't need statistics to show that men love cleavage shots since it "sells" one of your best physical assets: bigger breasts. Wear a slightly low cut dress or tank top or evening gown, just enough to give them a HINT but no more than that. Just be sure to keep your face natural so that you don't look too coy or aggressively sexual. You should look innocent but sexy.
3.Leave out all your friends and pets. Instead, look into the camera as if you're on a date
No cheating by filling the photo with friends or pets. This is a cop out and men don't like it. On the other hand, men do report they like profiles more, which feature a woman looking directly into the camera, without a camera flash.
4.Take photos from the top and keep your chin up.
You might be self-conscious about a double chin and it's not really the best introduction to a new date either. For a better effect keep your chin up and then snap a selfie from above, not even or below your face.
5.Do something INTERESTING in the selfie.
Studies show that the selfies that give the most response have something interesting going on in them, whether you're creating a fancy black and white effect, or perhaps hiking or vacationing. Be active or creative rather than just submitting a photo as is.
Using these tips you can send a better quality photo that will capture his interest and only amplify physical attraction. It's all about presentation and communicating positive feelings with the pictures you send. Why not start using a dating app right now to find a match in your area? Submit your own pictures and write a profile…you might be surprised at how many matches you find!
Read Related Articles:
Sex and BBW Dating-What the Science Shows
Tips to Help Curvy Women Feel More Beautiful
Not Giving Up On Being Fat and Fit!
How to Be a Happy Curvy Girl
Now is the Best Time Ever to Date as a Curvy Woman
Back To Curvy Dating Blog & Tips